Stem Cell Treatments For Children With Autism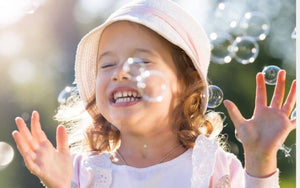 Vitro Biopharma, Fitore Nutrition's parent company, and one of the world leaders in stem cell research and technology is beginning breakthrough stem cell treatments for children with autism. For the past 30 years Vitro Biopharma has been at the forefront of stem cell therapy and regenerative medicine. 
What is Autism? 
Autism is a spectrum of disorders often characterized by abnormalities in learning, communication, and social interactions. Two consistent findings associated in children with autism are diminished oxygenation in specific areas of the brain and a chronic immunologically mediated inflammatory condition in the gut (severe gut inflammation).
How Can Stem Cells Treat Autism?
Current therapies for autism being done by Vitro Biopharma and their partners in preclinical and clinical trials attempt to reverse these abnormalities and address the neurological and metabolic effects of the disorder.
The rationale behind treating autism with umbilical cord tissue-derived mesenchymal stem cells is that autism, and its degree of severity, is correlated with inflammatory and neuro-inflammatory cytokines including macrophage-derived chemokine (MDC) and thymus and activation-regulated chemokine (TARC). Intravenous (IV) administration of ethically-sourced umbilical cord MSCs harvested in the United States, has been shown to significantly decrease inflammation. 
Stem Cell Therapy
Vitro Biopharma first begins the treatment with intravenous injection (IV) of mesenchymal stem cells to promote connectivity in the brain, assist in nerve regeneration, reduce brain inflammation and regulate abnormal immune responses. The subsequent steps of the procedure are focused on increasing the quality of life and improving general metabolic functions. 
Treating Autism With Umbilical Cord MSC's
Mesenchymal stem cells are immune system privileged. This means that cell rejection is not a concern. Additionally: 
MSC's have the best anti-inflammatory activity, immune modulating capacity, and ability to stimulate regeneration.
Mesenchymal stem cells can be administered multiple times over the course of days.
No need to collect stem cells from the patient's hip bone or fat under anesthesia, which (especially for small children), can be an unpleasant ordeal.
How Are The Stem Cells Administered?
The ethically-sourced umbilical cord-derived stem cells are administered intravenously by a licensed and trained physician. 
Will The Patient Reject This Type of Stem Cell?
The body's immune system is unable to recognize umbilical cord-derived mesenchymal stem cells as "foreign," meaning as an "invader," and therefore they are not rejected and not attacked by the immune system. Umbilical cord-derived mesenchymal stem cells (MSC's) also proliferate (differentiate) more efficiently than "older" cells, such as those found in the fat and therefore,
they are considered to be more "potent." Furthermore, ethically-sourced umbilical cord mesenchymal stem cells (MSC's) do not carry with them the ethical contention of embryonic stem cells, which are harvested from the embryo which many people inaccurately believe to be "dead babies." 
Treatment Protocol For Children
The neuroprotective properties of mesenchymal stem cells inhibit (brain) neuroinflammation, increase neurogenesis, enhance neurite remodeling, increase cell proliferation and improve neurological function.
50 million United States and FDA Registered Facility-sourced umbilical cord mesenchymal stem cells
More Information
Leave a comment
Comments will be approved before showing up.