Ashwagandha Negative Side Effects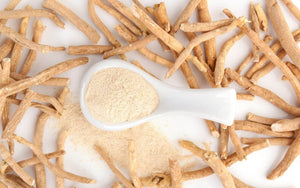 Ashwagandha Negative Side Effects 
Ashwagandha has been used in ayurvedic medicine for thousands of years to treat a variety of conditions including stress, anxiety, testosterone, hair loss, and insomnia. It is classified as an adaptogen, which means it can help the body better respond to external stressors. In this 3-minute article we discuss the potential side effects of ashwagandha as well as who should not take this ancient herb. 
What Are Ashwagandha's Potential Negative Side Effects? 
The most common reported side effects of ashwagandha include nausea, upset stomach, and headache. We will elaborate on each of these down below. 
Nausea and Upset Stomach 
Uncomfortable gastrointestinal symptoms like nausea, upset stomach and diarrhea are the most common reported side effects of ashwagandha. As Khara Jefferson, DNP, APRN, and owner of KAJ Wellness Professionals, stated, "large doses of ashwagandha (more than 6,000 mg of root powder or 1,500 mg of root extract) can cause irritation of the membranes inside the stomach." 
Fortunately, these side effects will resolve themselves once you stop supplementing with ashwagandha. You can learn more about the proper doses of ashwagandha here. 
Drowsiness 
Ashwagandha may cause drowsiness, which, depending on the time of day you take it can be beneficial. If you are consuming ashwagandha in the morning, however, this can be an unwelcome side effect interrupting your day-to-day tasks. 
The sedative effects of ashwagandha are much more noticeable in individuals who are taking other sedative drugs like benzodiazepine and barbiturates.  
May Decrease Blood Sugar 
Yes, some people greatly appreciate a supplement that lowers blood pressure. This side effect of ashwagandha, however, can be dangerous for others. Individuals, for example, with hypertension or high blood pressure and are on prescription-based medication should first consult with their physician before supplementing with ashwagandha. 
Ashwagandha Side Effects Weight Gain?
This is a myth and just like most myths, this too is inaccurate. Ashwagandha does not cause you to gain weight and may actually help you lose weight. This is partly because the antioxidants in ashwagandha are essential for weight loss and overall health. These antioxidants speed up your metabolism, decrease bodily inflammation, and may help burn the stored fat in your body. 
Can Ashwagandha Be Used For Weight Loss? 
Yes. Ashwagandha can be used for weight loss and can be incredibly beneficial for women who want to lose weight. Supplementing with ashwagandha can speed up your metabolism which may help you lose weight. 
Who Should Not Take Ashwagandha? 
There are certain individuals who should avoid ashwagandha altogether. You should not take ashwagandha if: 
You are pregnant: Ashwagandha is generally recognized as unsafe during pregnancy. It has compounds in it that can cause miscarriages or even premature births. 
You are on thyroid medication: Ashwagandha has been shown to increase thyroid hormones and alter thyroid function. 
You have hormone sensitive prostate cancer: Ashwagandha can increase testosterone levels which may be dangerous for patients with prostate cancer. 
You are on blood pressure medication: Supplementing with ashwagandha can lower your blood pressure. 
It is strongly recommended to consult with a doctor before taking ashwagandha if: 
You have diabetes: Ashwagandha can lower both blood pressure and blood sugar levels. 
You have stomach ulcers: Individuals with stomach ulcers may experience gastrointestinal irritation which can further exacerbate the ulcers. 
Overall 
Ashwagandha has been used in ayurvedic medicine for thousands of years to treat a variety of conditions including stress, anxiety, and insomnia. The most common reported side effects of ashwagnadha are: 
Nausea

Upset stomach

Headache
Ashwagandha is typically safe, however, if you are pregnant, on thyroid medication, have prostate cancer, diabetes or stomach ulcers you should avoid supplementing with ashwagandha or consult you doctor first. If you would to learn when to take ashwagandha click here.